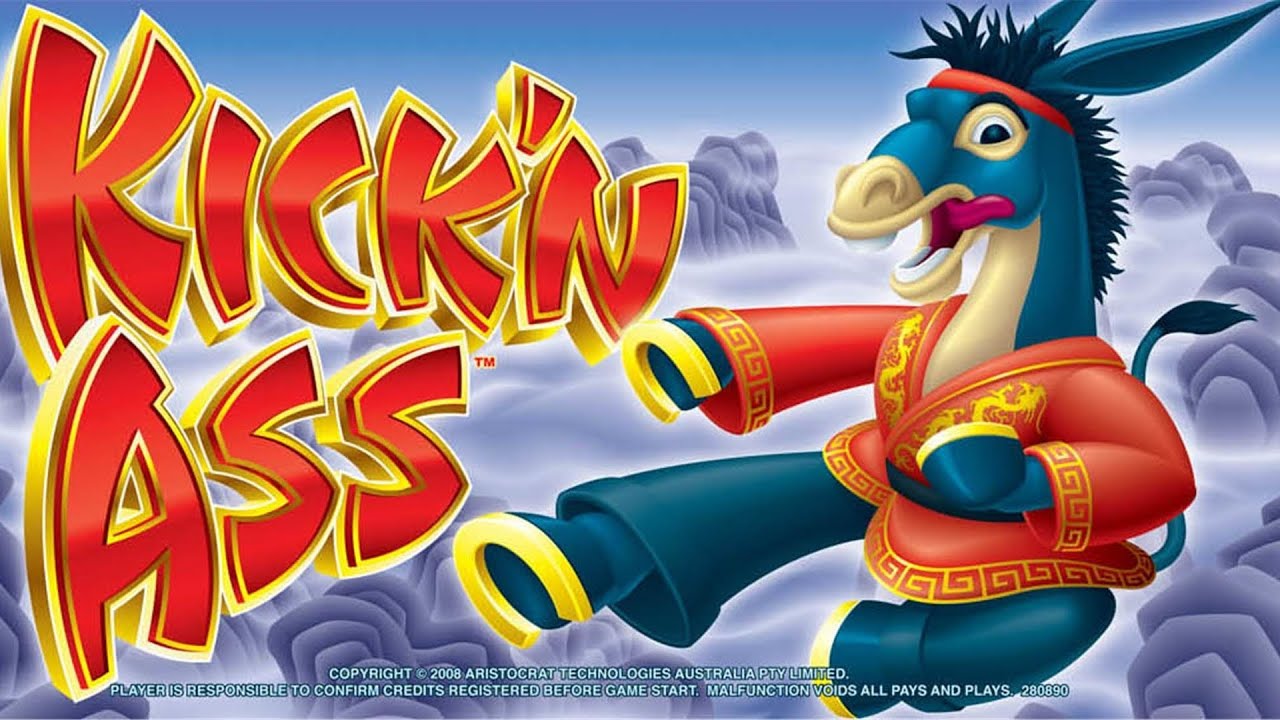 It's going to make you a lot of money!
At a time when superhero re-adaptations usually make the front page of the biggest publishers' slot machines, 1X2 Gaming has pulled off a major coup by granting itself the rights to Kick-Ass, the zero-zeroest super-justician ever invented in the world of comic books. The British developer decided to pay tribute to the character created by Mark Millar and John Romita Jr. via a video slot machine that unsurprisingly bears the same name: Kick Ass. Composed of 5 reels and 25 paylines, it tries to stay as close as possible to the original comic book. It remains to be seen whether David Lizewski is correctly represented and whether this game released in October 2013 will succeed in satisfying the hero's fans, who are fans of the cheap green suits and twin sticks.
A game for infidels. Visually outdated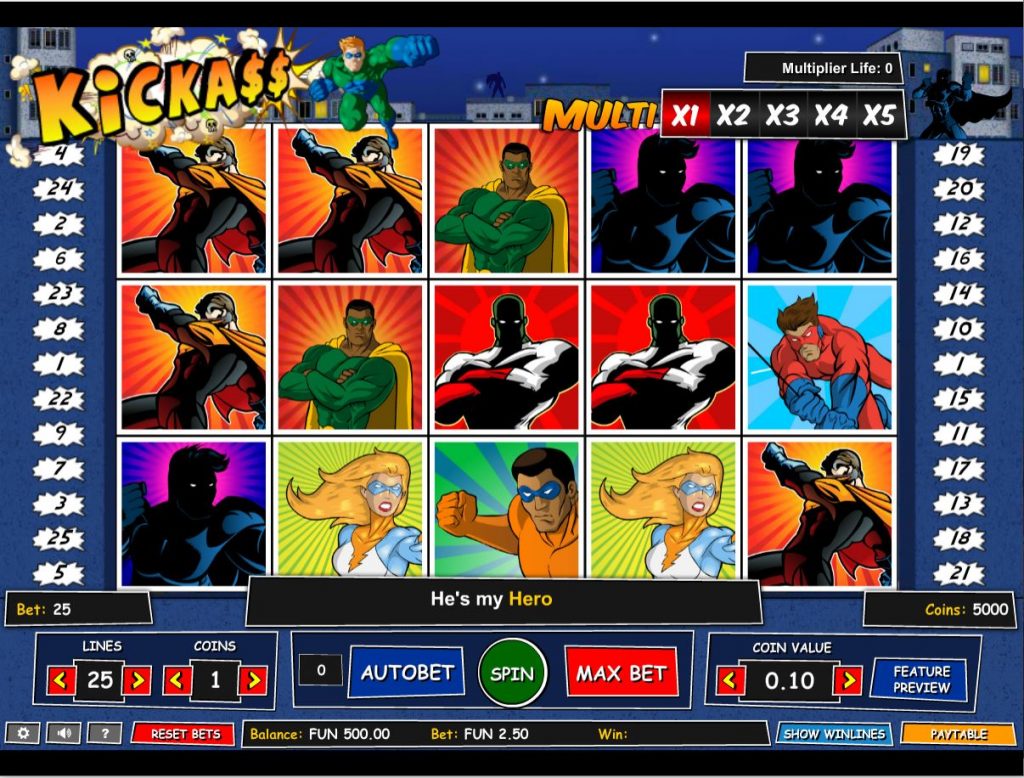 The slightly retarded high school student who has always dreamed of becoming a super hero is back thanks to the 1X2 Gaming publisher. Indeed, the vigilante who looks like the average person and has no special powers is the Kick Ass video slot, a title that tries to restore the reputation of the worst superhero while trying to satisfy its many – albeit recent – fans. For it is indeed the cinematographic readjustments of the vigilante that have enabled Kick-Ass to make a name for itself in the pantheon of tough guys in briefs and cape. Historically highlighted by Marvel Comics, Kick-Ass reached the stars thanks to Kick-Ass (2010) and Kick-Ass 2 (2013), films directed by Matthew Vaughn. As far as we can tell, those of you who were belatedly infatuated with our friend David won't be amazed by the 1X2 Gaming studio's game. Even if the characters and settings of the slot machine will undoubtedly make us think of a comic book, we are millions of light years away from the original comic book, the one that introduced Kick-Ass to the general public in 2009. Kick Ass is therefore not at all in keeping with the paper version of the adventures of the teenager in search of self-esteem, nor even with films from elsewhere.
A musty (and tight) suit for captivating earnings?
Too nice, too uninspired, the Kick Ass slot machine seems to offer us a story straight out of an alternative world in which the computer and printer have certainly not yet been invented. The soundtrack is just as annoying, with trumpet and synthesizer noises that quickly give us a headache.
Nevertheless, the spirit of Kick Ass remains friendly, the symbols are rather varied and the background animations are convincing although light.
Fortunately, 1X2 Gaming has made up for it in terms of payouts: a single euro cent is enough to try your luck on Kick Ass, knowing that the maximum bet allowed is $62.50.
All in all, you can still get your hands on $6,250!
What if you ask Kick-Ass if he doesn't need a Hit-Girl?
Bonuses that will make Frank and Chris d'Amico rage!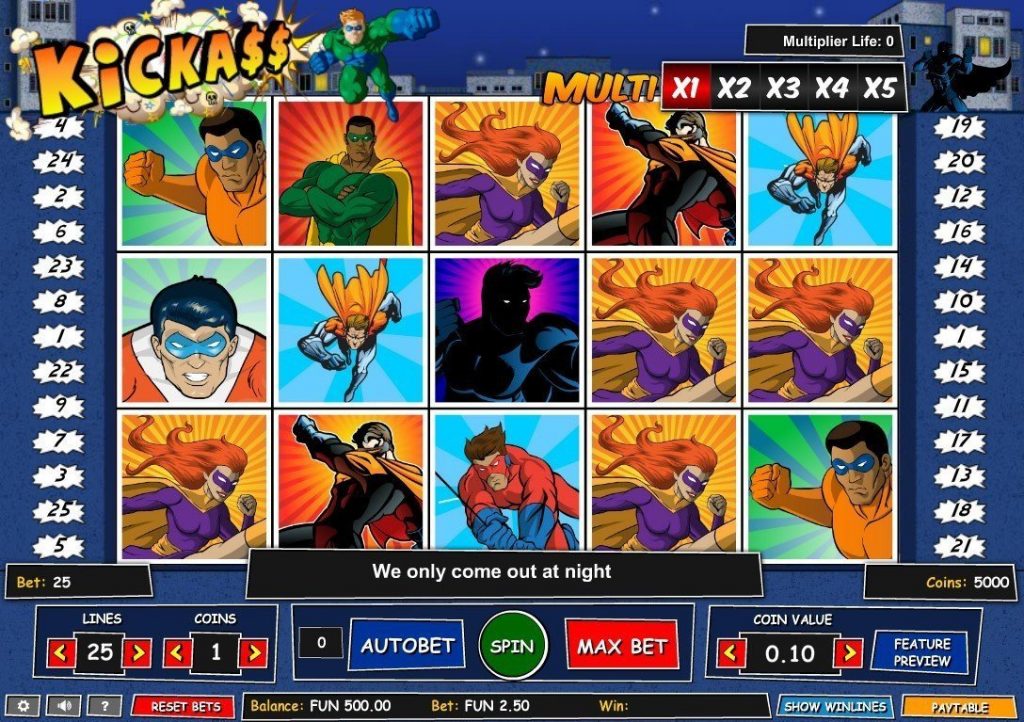 Another problem with Kick Ass is its lack of transparency when it comes to symbols. Although there are many of them and they offer a real variety – a good point, you might say – we have no idea who they are supposed to represent. This is frustrating and therefore leads us to simply focus on the game's three main bonuses. First of all, we have Free Spins. By collecting the three appropriate symbols on a single line, you'll unlock five of them; collect five and you'll get fifteen! Next is the Scatter symbol, which will allow you to unlock the bonus mini-game during Free Spins (we won't tell you more so as not to spoil you). Finally, the ultimate bonus of the game is none other than the usual multiplier symbol: "The Multiplier Man" will be there to save you from laughing winnings, and will probably help you to increase your profits fivefold!